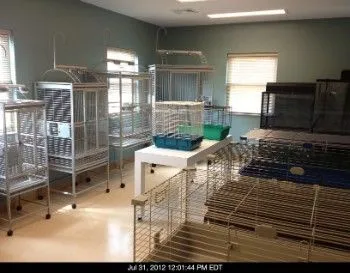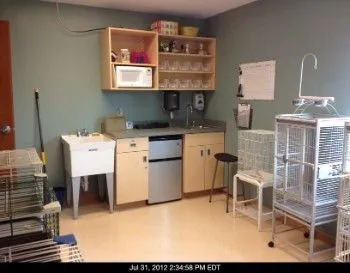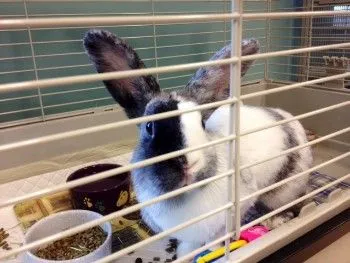 Specialized Care for Avian & Exotic Pets Boarding
Going out of town and don't know what to do with your precious bird or exotic pet? Family members or friends are often uncomfortable or unfamiliar with caring for exotics. Leave your pet in the care of those who work with them every day!
Your pet will enjoy a relaxed atmosphere of quiet and calm accented with supervised playtime and out-of-cage time. Remember, we only work with birds and exotics here at SCAEP, so no barking dogs or meowing cats will stress your pet while staying with us.
Our boarding room is upstairs and a floor away from any ill animals that may come into the clinic. It has separate heating and cooling controls to ensure that our guests are always comfortable! Our cages have been carefully chosen and outfitted so that we are able to provide for any pet - whether it be a macaw or a chameleon!
If your pet needs medication, we are here to help! Our doctors or technicians will make sure your little one gets each dose on time every day.
Feel free to call and schedule a tour of our boarding facility, ask further questions, or reserve space for your pet. Our cages can be specifically reserved for any period of time. We do recommend calling at least a few weeks ahead of your departure day so you can reserve the cage of your choice, be it "Waldo's Chameleon Canopy," "Chip's Condo," "Hobo's Hacienda," "The Sahara Suite," or any of our other very popular accommodations! You may also bring your own cage if you feel that your pet will be more comfortable in their own space.

SCAEP Requirements For Boarding
All pets are required to have had a physical exam within the year before beginning boarding at our facility. If your pet has been seen at a different clinic, please provide records from that hospital.

All bird species are required to have been tested for chlamydiosis (ornithosis, psittacosis, parrot fever) within the past year. Transmission of this disease between birds is primarily through inhalation of contaminated dust from droppings or feathers. Risk of infection is increased by close contact with infected birds that are shedding the organism.

Infected birds may shed the organism even if no clinical signs of the disease are observed. Therefore, in order to protect all of our avian boarders and lower the risk of transmission, we must require testing. If your bird does has psittacosis, he or she will be boarded in our isolation area if other guests are present in the boarding room.

Pet owners are required to bring enough food for their pet's entire stay with us. We do not stock food for our boarders! Each pet will have their own cubby in the boarding room where their food will be kept separate from the others. Refrigerator and freezer space is also available as is a microwave for heating foods.

All boarding time is prepaid upon dropping off your pet. If your pet's stay needs to be extended for any reason, the additional days can be paid for at the time of pick up.